We output plates for other printers
If you need CTP output for your press, please contact us at 1-866-210-6040.
We provide prepress services and image plates for several printers who do not have enough volume to justify a full time CTP device. We also image plates for printers whose CTP has broken down and need plates in a hurry. Plate prices vary according to plate size, thickness and quantity, please call us for a quote.
Printing plates are delicate so we do not ship them across Canada. Our plate output service is limited to the GTA (Greater Toronto Area). Plates can be picked up at our location in Richmond Hill, or we can courier them to you for an extra charge. We can courier plates to Newmarket, Aurora, Markham, Ajax, Pickering, Oshawa, Mississauga, Brampton or anywhere within the Greater Toronto Area.
Common Plates in Stock
800mm x 1030mm x 0.3mm (31.5" x 40.5" x 0.012")
Heidelberg 8up plates which are compatible with most Heidelberg SM102 and Heidelberg CD102 presses, as well as some Komori and Mitsubishi 40" presses.
723mm x 616mm x 0.3mm (28.5" x 24.25" x 0.012")
Heidelberg 4up plates, compatible with Heidelberg SORM & Heidelberg SORMZ
550mm x 650mm x 0.2mm (21.625" x 25.625" x 0.008")
Heidelberg 4up plates, compatible with Heidelberg MO Series Presses, MOV, MOVP, MOV-H
526mm x 459mm x 0.15mm (20.625" x 18.0625" x 0.006")
Heidelberg 2up plates, compatible with Heidelberg SM52
We do not image plates for Heidelberg QuickMaster series of presses. This plate is too small for our machine.
Files we accept for output
We accept imposed, plate ready PDF files. Please contact us before creating your PDF to ensure specifications meet our requirements for plate output.
Single PDF files for us to impose
We can impose your files to your specifications. You need to specify paper size, gutters and position.
We accept all Adobe CS Suite files up to the current version. We also accept QuarkXpress Files. We do not accept Microsoft Publisher, Corel Draw or other native files. If you use software other than Adobe or Quark, you may export your native files as PDF, TIFF or EPS for us to impose and output.
Our Fuji XMF Workflow has an excellent trap engine built in. We do not charge extra for automatic trapping. Some modifications may be made to trap styles at no extra charge. If you prefer to supply trapped files, please let us know the file supplied is already trapped.
We can supply ROOM proofs (RIP Once, Output Many). This means your proof is an exact representation of your plates. We can either provide you with Epson Proofs or rasterized PDF Proofs you can output on your own inkjet proofing device.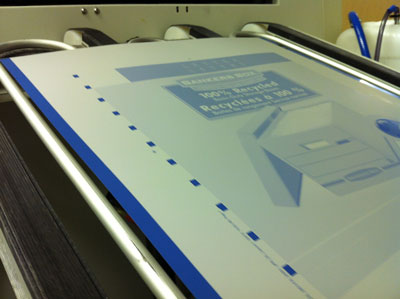 Our CTP Machine
Fuji Luxel Thermal Computer to Plate
Fully automatic
8up Platesetter
High Speed, 64 lasers, built in redundancy
Thermal Plate Stability
Fuji XMF Workflow - Genuine Adobe Rip Engine
Our Plates
Fuji LHPJ Plate (J Plate)
Recognized as one of the best plates in the industry
Extremely Sharp, High Contrast Plate
Excellent ink/water balance on press
Compatible with alcohol and alcohol free fountain solution
Wide ink compatibility
Plate Calibration and Linearization
Plates output as a service are linear in output, by default. This means 50% in the file is 50% on the plate. Plate linearization curves are generally not applied for customers using this service as a temporary measure for a broken CTP device. On going plate users may specify plate curves.
Because we use this plate machine for our own plates, we calibrate and clean the machine routinely. Plates are calibrated to within 1% maximum variance.